Design principles and concept research in "Interior Architecture Design Studio I" during the pandemic period
Keywords:
Interior Architecture Design Studio, Design Principles, Concept Design, Online Learning, Teaching under Pandemic Period
Abstract
This research was conducted during Covid 19 Pandemic -when University Education was provided online- as a part of the Design Studio I course for the first-year students of the Interior Architecture Department of Maltepe University, Faculty of Architecture, and Design in the 2020-2021 Academic Year. 62 students participated in this study. In the study in which the empirical research method was used, semi-structured, and closed-ended interview technique was used to analyze the design education, and design principles approaches to the students along with demographic questions. For this purpose, a written interview form consisting of 25 questions was sent. The data conveying the design preferences showing the self-report scales obtained with the natural observation method were tabulated with the qualitative research method. As a result of this study, it was observed that the students were introduced to the concept of design for the first time during their university years. It was determined that they had difficulty in understanding the concept of design in the first stage of distance education, and then they showed improvement. Despite this, it was determined that as their experience increased thanks to course applications, and discussions, their perceptions of the course content also improved.
References
Ahmad, L., Marco, S., Musfy, K. (2020). Interior design teaching methodology during the global COVID-19 pandemic. Interiority, 3(2), 163-184. http://dx.doi.org/10.7454/in.v3i2.100
Atmaca, A. E. (2014). Temel tasarım. Nobel Akademik Yayıncılık.
Aydınlı, S. (1992). Mimarlıkta görsel analiz. İTÜ Yayınları.
Bardakçı, S. (2020, 7 June). Pandemi döneminde uzaktan eğitim. Turkish Higher Education Quality Council. https://portal.yokak.gov.tr/makale/pandemi-doneminde-uzaktan-egitim (11.01.2021).
Becer, E. (2015). İletişim ve grafik tasarım. Dost Kitabevi Yayınları.
Bitzer, D. L. (1986). The PLATO project at the University of Illinois. Engineering Education, 77(3), 175-80.
Bozkurt, A. (2020). Koronavirüs (Covid-19) pandemi süreci ve pandemi sonrası dünyada eğitime yönelik değerlendirmeler: Yeni normal ve yeni eğitim paradigması. Açıköğretim Uygulamaları ve Araştırmaları Dergisi, 6(3), 112-142. https://dergipark.org.tr/tr/pub/auad/issue/56247/773769
Council of Higher Education. (2020). Uzaktan eğitime yönelik değerlendirme. Council of Higher Education. https://www.yok.gov.tr/Sayfalar/Haberler/2020/uzaktan-egitime-yonelik-degerlendirme.aspx (15.01.2021).
Çelik, M., Aslan, Ş. (2012). Mekan tasarımı eğitiminde temel tasarım eğitimi dersi ve dersin izlenebilirliğine yönelik bir yaklaşım. İÇMEK / İçmimarlık Eğitimi 2. Ulusal Kongresi. İstanbul, Türkiye, p.54-63.
Dwayne, C. D., & William, M. J. (1999). The University of Louisville. University Press of Kentucky.
Erdoğan, İ. C. (2019). Grafik tasarımda kullanılan görsel göstergelerin incelenmesi: İKSV İstanbul Müzik Festivali afiş örnekleri [Yüksek Lisans Tezi T.C. İstanbul Arel Üniversitesi].
Gropius, W. (1965). The new architecture and the Bauhaus. MIT Press.
Gropius, W. (1968). Apollo in the democracy: The cultural obligation of the architect. McGraw-Hill.
İncearık, M. E. (2011). Grafik tasarım rehberi. Kodlab Yayın Dağıtım Yazılım Ltd.Şti.
Harasim, L. (1987). Teaching and learning on-line: Issues in computer-mediated graduate courses. Canadian Journal of Educational Communication, 16(2), 117-135.
Karasar, Ş. (2004). Eğitimde yeni iletişim teknolojileri -internet ve sanal yüksek eğitim-. The Turkish Online Journal of Educational Technology, 3(4), 117-125.
Kömürcüoğlu. T. N., Altaş, N. E. (2003). Tasarım sürecinde kavram. İTÜDERGİSİ Mimarlık, Planlama, Tasarım, 2(1), 15-26.
Nerdinger, W. (1985). Walter Gropius: The architect Walter Gropius drawings, prints and photographs from Busch-Reisinger Museum, Harvard University Art Museums, Cambridge/Mass. Bauhaus-archives, Berlin - With complete project catalogue. Busch-Reisinger Museum.
Ministry of Health. (n.d.). Covid-19 sözlüğü. Republic of Türkiye Ministry of Health. https://covid19.saglik.gov.tr/TR-66493/p.html (10.01.2021).
Ocvirk, O., Stinson, R., Wigg, P., Bone, R., Cayton. D. (2015). Sanatın temelleri: Teori ve uygulama. Karakalem Kitabevi.
Özol, A. (2012). Sanat eğitimi ve tasarımda temel değerler. Pastel Yayıncılık,
Öztuna, H. Y. (2007). Görsel iletişimde temel tasarım. Tibyan Yayıncılık.
Reardon, A. P. (2004). A perceptual basis fort the elements and principles of design [Doktora Tezi, Eastern Michigan University, USA].
Türk Dil Kurumu (TDK). (n.d.). Withdrawal. In TDK dictionary. https://sozluk.gov.tr (12.04.2021).
Türkmen, A. (2020). Temel tasarımda kavram temsili ve biçim üretimi. IDA: International Design and Art Journal, 2(2), 228-247.
Uluoğlu, B. (1990). Mimari tasarım eğitimi tasarım bağlamında stüdyo eleştirileri [Doktora Tezi, İstanbul Teknik Üniversitesi].
Williams, R. (2008). The non-designer's design book: Design and typographic principles for the visual novices. Pearson Education.
Yılmaz, M. (2009). Görsel sanatlar eğitiminde uygulamalar. Gündüz Eğitim ve Yayıncılık.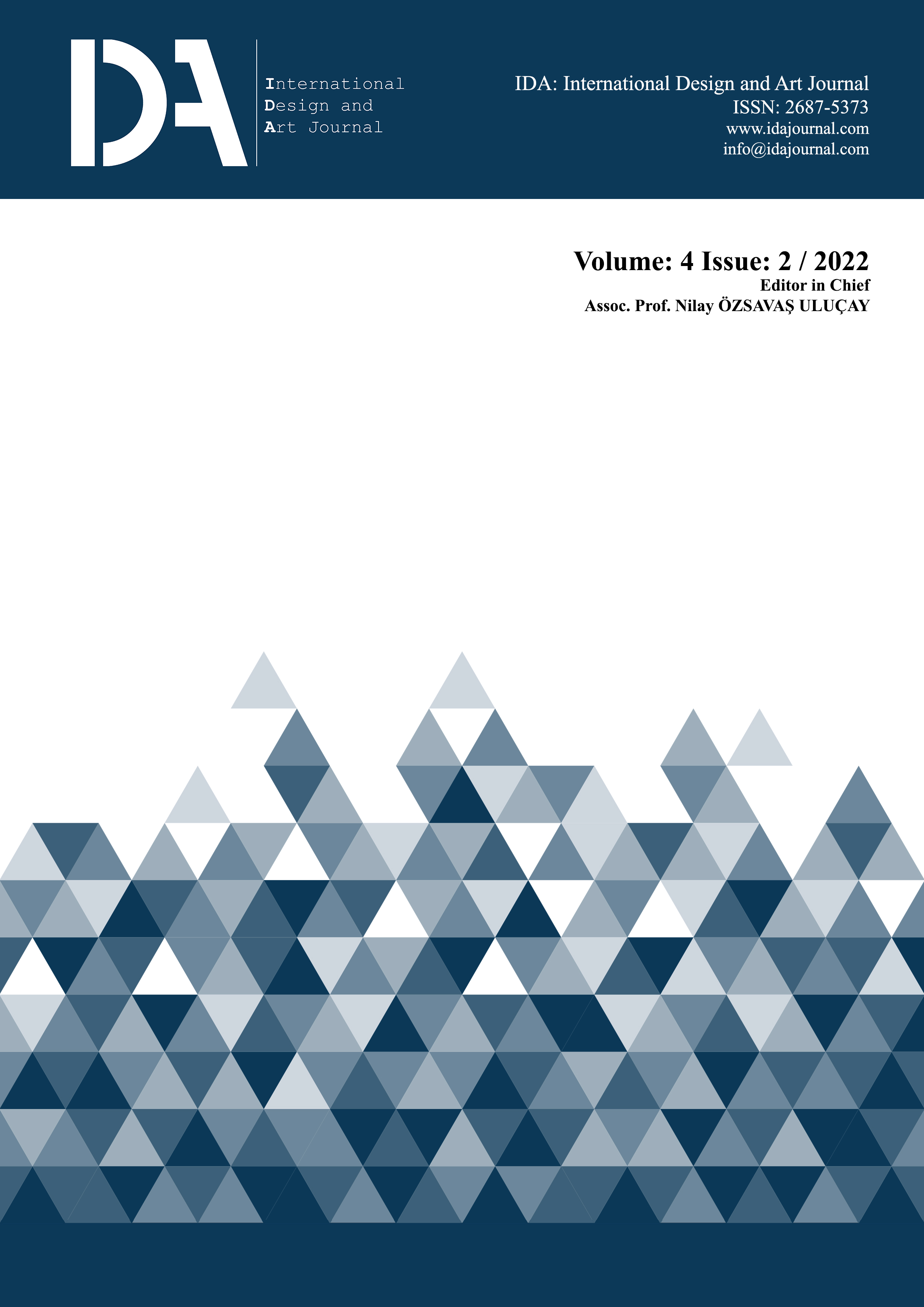 Downloads
License
Copyright (c) 2022 IDA: International Design and Art Journal
This work is licensed under a Creative Commons Attribution-NonCommercial-ShareAlike 4.0 International License.
IDA: International Design and Art Journal is an open-access academic journal. All publishing rights of the accepted articles are deemed to assign to IDA: International Design and Art Journal. Articles can not be published and copied anywhere, and can not be used without reference.
IDA: International Design and Art Journal is licensed under a Creative Commons Attribution-NonCommercial-ShareAlike 4.0 International License.