Employing project-based learning to foster essential professional skills in students of graphic design
Keywords:
Project-Based Learning (PBL), Essential Professional Skills, Collaboration, Graphic Design Education, Real-World Project
Abstract
Around the world, employers seek graduates with collaboration, teamwork, interpersonal, communication, and project management skills worldwide. Project-based learning (PBL) helps foster these essential professional skills by providing learning opportunities in an environment of mutual investigation. Collaboration is integral to PBL, but often advantages of collaboration are not the focal point of discussion. This study focuses on creating a collaborative learning environment by introducing a real-world project under PBL instructional strategy to check its efficacy in developing some essential professional skills in graphic design education. The project was introduced in 2019 in the Publication Design course undertaken by 35 students enrolled in an undergraduate graphic design programme in India. The study employed mixed-method research in the form of a survey questionnaire followed by semi-structured interviews. The study results show that PBL helps foster the skills mentioned earlier to prepare students for the 21st-century workplace. Joint efforts by students in projects in graphic design education develop multiple skills much needed in the current workplace scenario.
References
Ananiadou, A., & Claro, M. (2009). 21st century skills and competences for new millennium learners in OECD countries. OECD Education Working Papers No. 41; OECD Education Working Papers. https://doi.org/10.1787/218525261154
Bell, S. (2010). Project-based learning for the 21st century: Skills for the future. The Clearing House: A Journal of Educational Strategies, Issues and Ideas, 83(2), 39-43. https://doi.org/10.1080/00098650903505415
Blumenfeld, C. P., Soloway, E., Marx, W. R., Krajcik, S. J., Gusdial, M., & Palincsar, A. (1991). Motivating project-based learning: Sustaining the doing, supporting the learning. In Educational Psychologist, 26, 369-398. https://doi.org/10.1080/00461520.1991.9653139
Boss, S., & Krauss, J. (2014). Reinventing project-based learning: Your field guide to real-world projects in the digital age. International Society for Technology in Education.
Buckler, V. (2019, February 15). The benefits of collaboration in project-based learning. Magnify Learning. https://www.magnifylearningin.org/project-based-learning-blog/the-benefits-of-project-based-learning-collaboration (19.03.2020).
Deci, L. E., & Rayn, M. R. (1987). The support of autonomy and control of behaviour. Journal of Personality and Social Psychology, 53, 1024-1037. https://doi.org/10.1037//0022-3514.53.6.1024
Donnelly, R., & Fitzmaurice, M. (2005). Collaborative project-based learning and problem-based learning in higher education: A consideration of tutor and student role in learner-focused strategies. In G. O'Neill, S. M. Moore, & B. McMullin (Eds.), Emerging Issues in the Practice of University Learning and Teaching (pp. 87-98). AISHE/HEA. http://www.aishe.org/readings/2005-1/collection.pdf
Ellis, T. J., & Hafner, W. (2007). Assessing collaborative, project-based learning experiences: Drawing from three data sources. 2007 37th Annual Frontiers in Education Conference - Global Engineering: Knowledge without Borders, Opportunities without Passports, T2G-13-T2G-17. https://doi.org/10.1109/FIE.2007.4418028
Ellmers, G. (2014). Graphic design education: Fostering the conditions of transfer in a project-based and studio-based learning environment, through a structured and critical approach to reflective practice [Doctor of Philosophy Thesis, University of Wollongong]. University of Wollongong Thesis Collection. https://ro.uow.edu.au/theses/4189/
Fallows, S., & Steven, C. (2000). Building employability skills into the higher education curriculum: A university‐wide initiative. Education + Training, 42(2), 75-83. https://doi.org/10.1108/00400910010331620
Gokhale, A. A. (1995). Collaborative learning enhances critical thinking. Journal of Technology Education, 7(1). https://doi.org/10.21061/jte.v7i1.a.2
Jones, B. (2019). Good practice: Scaffolded, collaborative project-based learning. Journal of the European Honors Council, 3(1), 1-16. https://doi.org/10.31378/jehc.85
Kapp, E. (2009). Improving student teamwork in a collaborative project-based course. College Teaching, 57(3), 139-143. https://doi.org/10.3200/CTCH.57.3.139-143
Kivunja, C. (2014). Do you want your students to be job-ready with 21st century skills? Change pedagogies: A pedagogical paradigm shift from Vygotskyian social constructivism to critical thinking, problem solving and Siemens' digital connectivism. International Journal of Higher Education, 3(3), 81. https://doi.org/10.5430/ijhe.v3n3p81
Kuh, D. G. (2008). High impact educational practices (ISBN 978-0-9796181; p. 35). Association of American Colleges and University. https://provost.tufts.edu/celt/files/High-Impact-Ed-Practices1.pdf
Lepper, M. R. (1988). Motivational Considerations in the Study of Instruction. Cognition and Instruction, 5(4), 289-309. https://doi.org/10.1207/s1532690xci0504_3
Organisation for Economic Co-operation and Development (OECD). (2018). The future of education and skills, education 2030. OECD. https://www.oecd.org/education/2030/E2030%20Position%20Paper%20(05.04.2018).pdf
Race, P. (2007). The lecturer's toolkit: A practical guide to learning, teaching & assessment (3rd Edition). Routledge.
Scaffolding Definition. (2013, November 8). The Glossary of Education Reform. https://www.edglossary.org/scaffolding/ (24.10.2021).
Smith, L. B., & MacGregor, T. J. (1992). What is collaborative learning? In Collaborative learning: A sourcebook for higher education (p. 12). National Center on Postsecondary Teaching, Learning, and Assessment at Pennsylvania State University. https://www.researchgate.net/publication/242282475_What_is_Collaborative_Learning
The Future of Jobs Report 2020.(2020). World Economic Forum. http://www3.weforum.org/docs/WEF_Future_of_Jobs_2020.pdf (28.10.2020).
Wang, S.-Y. S. (2006). Identification of the significant competencies in graphic design [PhD, University of Missouri, Columbia]. https://doi.org/10.32469/10355/4332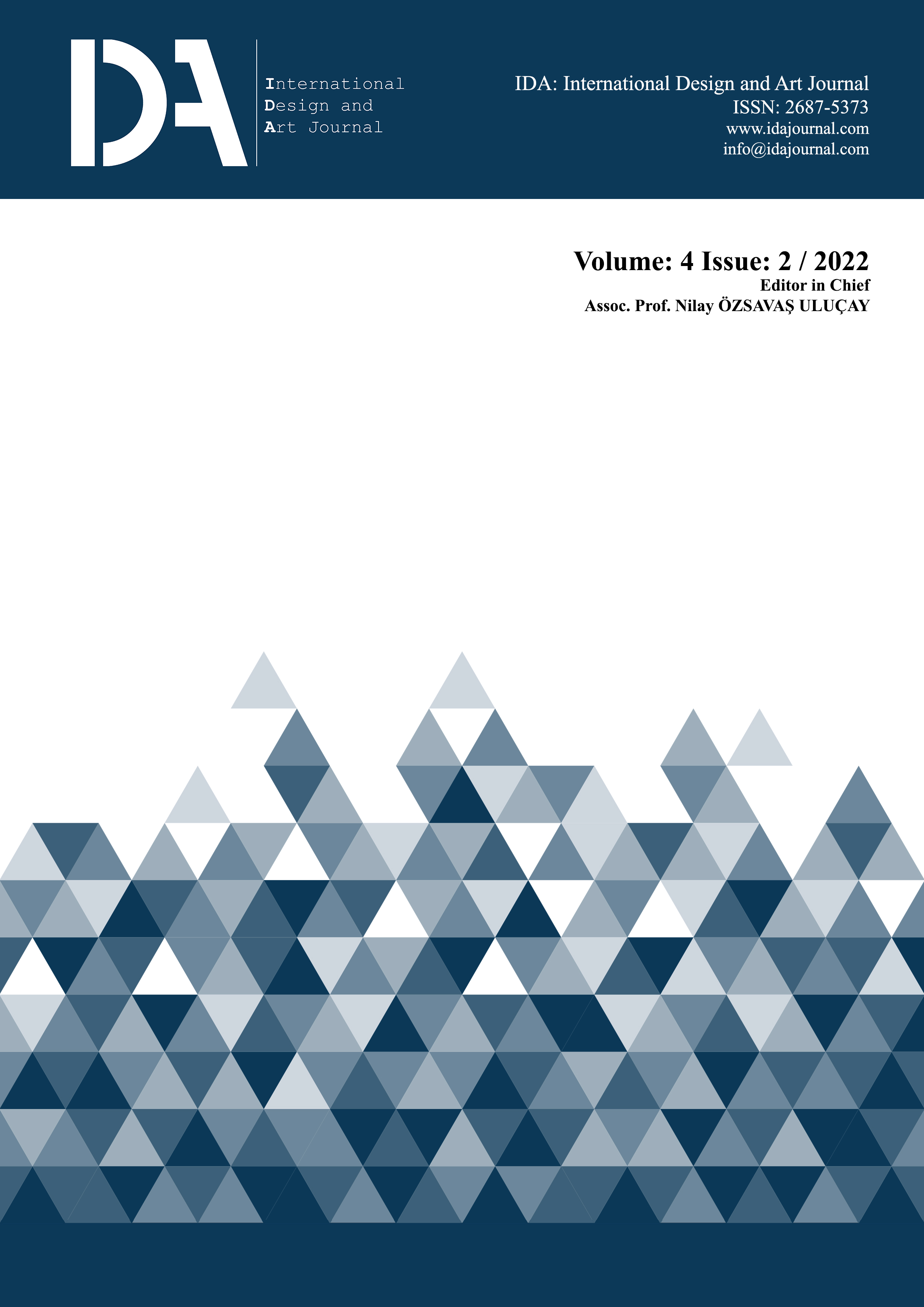 Downloads
License
Copyright (c) 2022 IDA: International Design and Art Journal
This work is licensed under a Creative Commons Attribution-NonCommercial-ShareAlike 4.0 International License.
IDA: International Design and Art Journal is an open-access academic journal. All publishing rights of the accepted articles are deemed to assign to IDA: International Design and Art Journal. Articles can not be published and copied anywhere, and can not be used without reference.
IDA: International Design and Art Journal is licensed under a Creative Commons Attribution-NonCommercial-ShareAlike 4.0 International License.