The Current Situation and Re-Functioning Possibilities of Old Çoban Mektebi in Ankara
Keywords:
Çoban Mektebi, Ankara, Cultural Heritage, Historical Environment Consciousness, Re-Functioning.
Abstract
Çoban Mektebi was built at the end of the 19th century due to the quality of its soil and its location around Çubuk Stream in Ankara within the boundaries of Keçiören district as a result of attempts to establish a Sample Farm in order to improve the agriculture during in the Tanzimat Period. Folds and other facilities outside the central building are not available today. The building was registered in 2009 and has a degree of monumental protection. It, which was used by different institutions but was abandoned today, had a fire on 29.03.2018. Therefore Çoban Mektebi, which has material and structural problems, is a cultural asset that requires extensive repair. Çoban Mektebi, where the members of Mustafa Kemal Atatürk and the delegation stayed, is a place that witnessed the spread of the National Struggle to Anatolia. This witnessed place needs to be re-functionalized in order to be preserved and passed on to future generations.
Due to its originality and its authenticity of the Old Çoban Mektebi in Ankara was discussed by the third-year students of the Department of Architecture, Başkent University, Faculty of Fine Arts, Design and Architecture, under the MIM 444 Survey and Restoration course during the spring semester of the 2018-2019 academic years. In this study, it is aimed to raise awareness level in order to protect the cultural heritage values of Çoban Mektebi while instilling the consciousness of the historic environment in the students of architecture. The aim of the study is to document the current situation of the building and to investigate the re-functioning possibilities of the Çoban Mektebi to be used by Ankara Provincial Directorate of Culture and Tourism. Within the scope of this study, re-functioning proposals were developed for the Çoban Mektebi in line with the demands of Ankara Provincial Directorate of Culture and Tourism and the study report prepared was submitted to the Provincial Directorate of Culture.
References
Aysal, N. (2007). Mustafa Kemal Paşa'nın Ankara'da İlk Günleri Ziraat Mektebi. Ankara Üniversitesi Türk İnkılâp Tarihi Enstitüsü Atatürk Yolu Dergisi. 39, s. 359-396.
DHA (2018). Atatürk'ün kaldığı Çoban Mektebi, alevlere teslim oldu. http://www.hurriyet.com.tr/ataturkun-kaldigi-coban-mektebi-alevlere-tesl-40788217 (08.07.2019)
Hürriyet (2019). Tarihi binaya kapsamlı temizlik. http://www.hurriyet.com.tr/yerel-haberler/ankara/tarihi-binaya-kapsamli-temizlik-41352810 (25.11.2019)
Keskin, Ö. (2010). Osmanlı İmparatorluğu'nda Modern Ziraat Eğitiminin Yaygınlaşması: Ankara Numune Tarlası ve Çoban Mektebi. OTAM. 28, s. 87-106.
Müzeasist (2015). Ankara Somut Olmayan Kültürel Miras Müzesi. https://muzeasist.com/muze/profil/ankara-somut-olmayan-kulturel-miras-muzesi (09.07.2019)
Tamur, E. (2003). Ankara Keçisi ve Ankara Tiftik Dokumacılığı Tükenen Bir Zenginliğin ve Çöken Bir Sanayinin Tarihsel Öyküsünden Kesitler. Ankara: Ankara Ticaret Odası.
Oğuz, M. Ö. ve Saltık Özkan, T. (2003). Türkiye'de Halkbilimi Müzeciliği ve Sorunları Sempozyumu Bildirileri. Ankara: Gazi Üniversitesi THBMER Yayını.
UNESCO (2006). Somut Olmayan Kültürel Mirasın Korunması Sözleşmesi Paris 17 Ekim 2003. http://www.unesco.org.tr/Home/Page/181?slug=Somut-Olmayan-K%C3%BClt%C3%BCrel-Miras%C4%B1n-Korunmas%C4%B1-S%C3%B6zle%C5%9Fmesi (09.07.2019)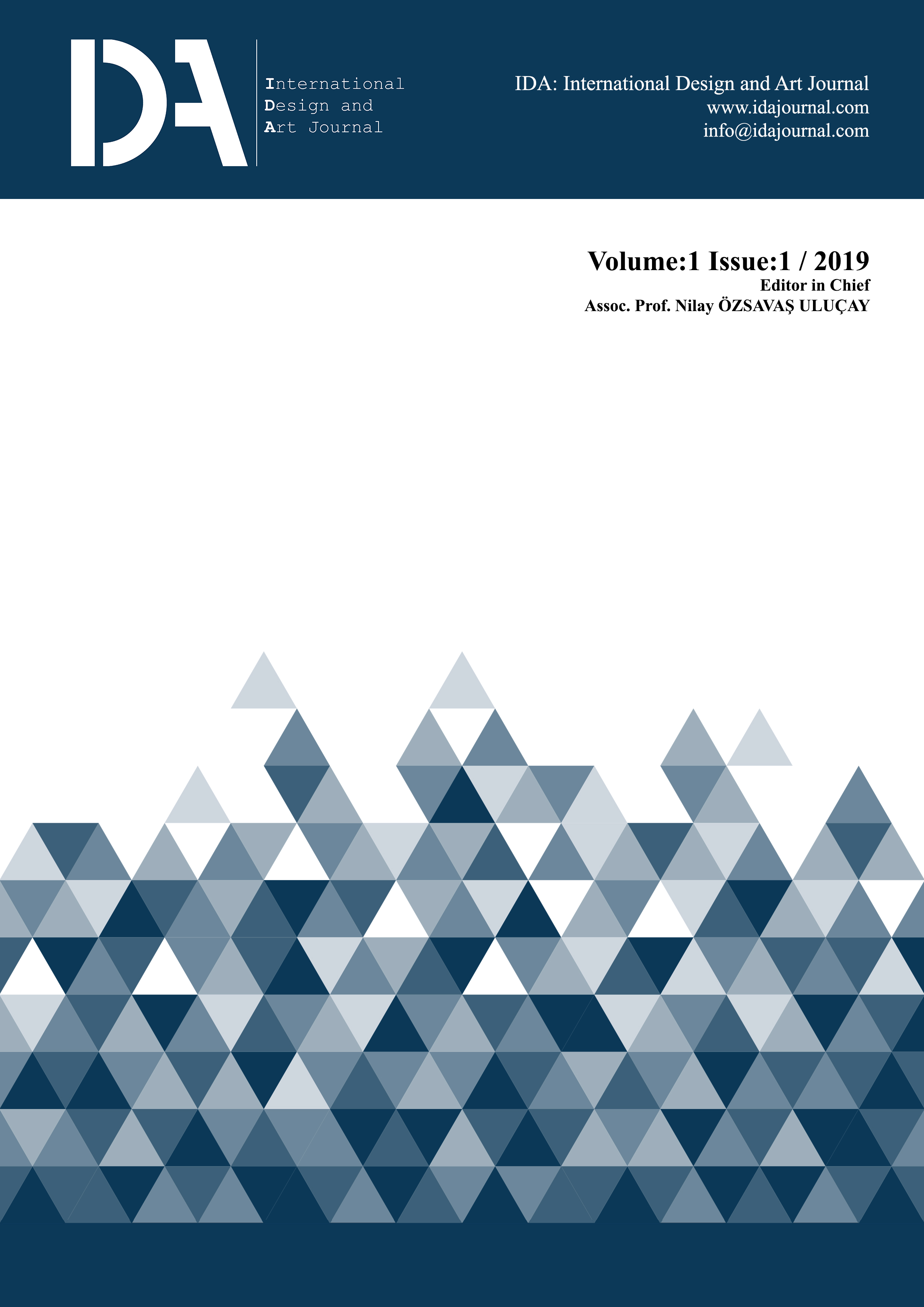 Downloads
License
IDA: International Design and Art Journal is an open-access academic journal. All publishing rights of the accepted articles are deemed to assign to IDA: International Design and Art Journal. Articles can not be published and copied anywhere, and can not be used without reference.
IDA: International Design and Art Journal is licensed under a Creative Commons Attribution-NonCommercial-ShareAlike 4.0 International License.