Telling Practice through Theory or Vice Versa: An Exhibition Review on "The Value of Good Design"
Keywords:
Design Theory, Discourses in Design, Museum of Modern Arts, Theory and Practice, Design Concepts
Abstract
This paper examines the exhibition of "The Value of Good Design" held by The Museum of Modern Art in New York City. The author analyzes the features of this exhibition through design discourses she conducted in the 2019 spring term within the "Discourses in Design" course at The New School. The object of this paper is to reveal the relation between the core texts in the theory of design and objects from this exhibition. Rather than looking at the curation, this paper aims to discuss the relationship between theory and practice of design by using this exhibition as a medium. The exhibition's concept of good design and its historical narration has the capacity of rethinking our habitat and raising questions towards our material world.
In this paper, it is shown that interpretation of analyzing design objects can be a means of understanding design concepts by adopting inquiry-based learning as one of the pedagogical approaches. As a result, this paper discusses that design will develop as we find the context from our lives and then to apply to the process of learning design theory, or vice versa. It is presented in this paper as a proposal to display this connection in exhibitions by correlating with living spaces.
References
Arrigo, E. (2011). Fashion, Luxury and Design: Store Brand Management and Global Cities Identity. Symphonya, Emerging Issues in Management, 1, p.55-67.
Boradkar, P. (2016). Design + Anthropology: An Emergent Discipline. The Routledge Companion to Design Studies. London: Routledge.
Buchanan, R. (1995). Rhetoric, Humanism, and Design. Discovering Design: Explorations in Design Studies, 23, p.23-66.
Chapman, J. (2015). Emotionally Durable Design: Objects, Experiences and Empathy. London: Earthscan.
Costanza-Chock, S. (2018). Design Justice: Towards an Intersectional Feminist Framework for Design Theory and Practice. Proceedings of the Design Research Society.
De Balzac, H. (1996). The Pleasures and Pains of Coffee. Ann Arbor: University of Michigan.
De Jong, T. and Van Joolingen, W.R. (1998). Scientific Discovery Learning with Computer Simulations of Conceptual Domains. Review of Educational Research, 68, p.179-202.
Dilnot, C. (2008). The Critical in Design- Part One. Journal of Writing in Creative Practice, 1(2), p.177-189.
Flusser, V. (2013). Shape of Things: A Philosophy of Design. London: Reaktion Books.
Heidegger, M. (1971). Poetry, Language, Thought, Trans. Albert Hofstader. New York: Harper&Row.
Heskett, J. (2005). Design: A Very Short Introduction. New York: Oxford University Press.
Jansson, J. and Power, J. (2010). Fashioning a Global City: Global City Brand Channels in the Fashion and Design Industries. Regional Studies, 44:7, p: 889-904.
Latour, B. (2008). A Cautious Prometheus? A Few Steps toward a Philosophy of Design (with special attention to Peter Sloterdijk). Proceedings of the 2008 Annual International Conference of the Design History Society.
Manzini, E. (1995). Prometheus of the Everyday: The Ecology of the Artificial and the Designer's Responsibility. Discovering Design: Explorations in Design Studies, p.219-243.
Manzini, E. (2017). Designing coalitions: Design for Social Forms in a Fluid World. Strategic Design Research Journal, 10(2), p.187-193.
Margolin, V. (2002). The Politics of the Artificial: Essays on Design and Design Studies. Chicago: University of Chicago Press.
McDonald, G. (2008). The "advance" of American Postwar Design in Europe: MoMA and The Design for Use, USA Exhibition 1951–1953. Design Issues, Vol.24, No.2 (2008): 15-27.
MoMA, (2019a). https://www.moma.org/calendar/exhibitions/5032 (08.03.2019).
MoMA, (2019b). https://www.moma.org/collection/works/1847 (15.03.2019).
Pamuk, O. (2012). The Innocence of Objects. New York: Harry N. Abrams.
Pedaste, M. et al. (2015). Phases of Inquiry-Based Learning: Definitions and the Inquiry Cycle. Educational Research Review, 14, p.47-61.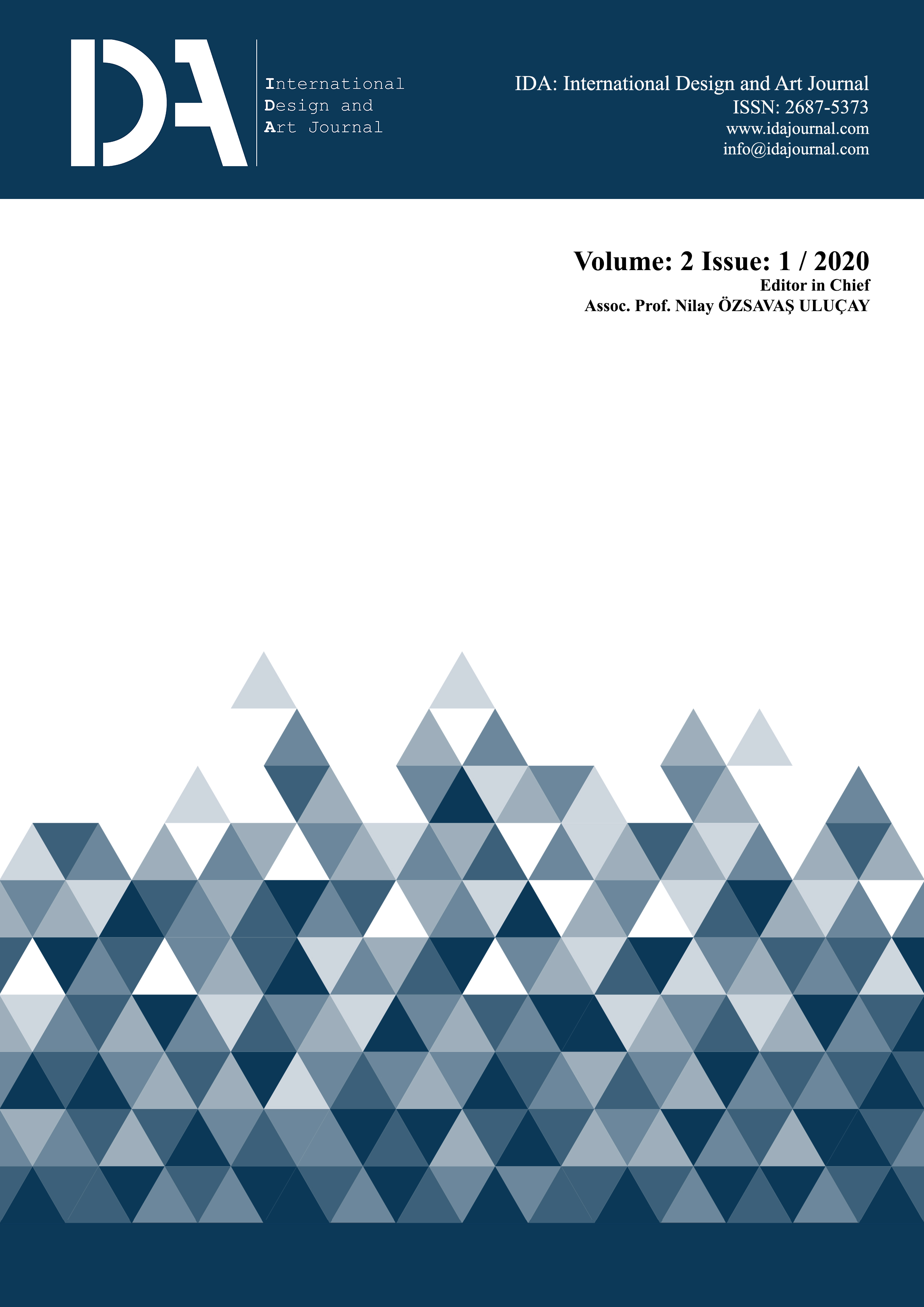 Downloads
License
IDA: International Design and Art Journal is an open-access academic journal. All publishing rights of the accepted articles are deemed to assign to IDA: International Design and Art Journal. Articles can not be published and copied anywhere, and can not be used without reference.
IDA: International Design and Art Journal is licensed under a Creative Commons Attribution-NonCommercial-ShareAlike 4.0 International License.