Refunctioning of a public building: The service desk and cafeteria interior designs project of Selcuklu Municipality
Keywords:
Office, Cafeteria, Service Desk, Interior Architecture, Refunctioning
Abstract
The ability of employees to fulfill their duties and responsibilities efficiently and effectively in the working environment depends on their ability to work in a comfortable environment, their motivation and work load intensity. The physical order of job settings is of great importance in increasing the psychological and physical health of the employees and the productivity. However, it has important effects on employee performance and productivity through the use of office instruments and office design. The ergonomics of the office furniture used in interior is another factor that plays an active role on the ergonomics is the foundation for staff's performance to work comfortably in the work setting. The comfort of the equipment in the work area, the usability of the space, the order within the space, the color preferences, the provision of adequate lighting and, ventilation for suitable conditions, the tools and materials used and, the level of temperature ensure employees' compliance with the workplace and their responsibilities, particularly in the collective work areas. The realization of these conditions will maximize the employee's job effectiveness. In this study, the re-functioned interior architecture project and application prepared in line with the demands and requirements of the users in of the waiting and canteen areas of Konya Selçuklu Municipality, which are situated on the ground floor and are not densely is used, with low density on the ground floor of Konya Selçuklu Municipality, have been evaluated. In order to present the information given in the content of this paper effectively, it has been evaluated according to the components- material, light, color, instrument and decorative elements- consist the physical interior atmosphere. The entrance hall, service desk (8 individual office areas, waiting area, call center) areas and cafeteria, which were redesigned for the convenience of use of the employees, have been evaluated in line with the physical interior atmosphere criteria, taking the demands and needs of the employees into account. In accordance with the modern, innovative and dynamic concept, the new designs which have been applied were in this direction is planned as clearly as possible, providing the ease of use and, meeting all the requirements of the users, thus and a new sense of space atmosphere has been created.
References
Alici, N., Paktaş, M. G. (2020). İç Mekânda Renk Algısı ve Psikolojiye Etkileri. Modular Journal, 3(1), 89-105.
Amabile, T. M., Conti, R., Coon, H., Lazenby, J., Herron, M. (1996). Assessing the Work Environment for Creativity. The Academy of Management Journal, 39(5), 1154– 1184.
Amabile, T. M. (1996). Creativity in context. Boulder, Westview Press.
Aydın, F. (2019). Paylaşımlı Ofislerde Mekan Organizasyonu Üzerine Bir İnceleme. [Yüksek Lisas Tezi, Bursa Uludağ Üniversitesi].
Aydıntan, E. (2001). Yüzey Kaplama Malzemelerinin İç Mekan Algısına Anlamsal Boyutta Etkisi Üzerine Deneysel Bir Çalışma. [Yüksek Lisans Tezi, Karadeniz Teknik Üniversitesi].
Barli, Ö., Bilgili, B., & Dane, Ş. (2006). Association of consumers' sex and eyedness and lighting and wall color of a store with price attraction and perceived quality of goods and inside visual appeal. Perceptual and motor skills, 103(2), 447- 450.
Can, H., Tuncer, D., Ayhan, D. Y. (1995). Genel İşletmecilik Bilgileri. Siyasal Kitapevi.
Ceylan, C., Dul, J., Aytac, S. (2008). Can the Office Environment Stimulate a Manager's Creativity?, Human Factors and Ergonomics in Manufacturing, 18(6), 589–602.
Cordan, Ö. (2017). İç Mekan Atmosferi. Yapı Dergisi, 425, 88-92.
Çimen, T. (2008). Teknolojik Gelişmelerin Sonucunda Değişen Üretim İlişkilerinin, Ofis Yapılarına Etkisi ve Ofis Mekanları. [Yüksek Lisans Tezi, İstanbul Teknik Üniversitesi].
Doğan, C. (2017). Bürolarda Fiziksel Çevre Koşullarının Çalışma Performansına Etkileri. International Journal of Academic Value Studies, 16, 294-306.
Doorley, S. , Witthoft, S. (2012). Make Space. John Wiley & Sons Inc.
Dul, J. , Ceylan, C. , Jaspers, F. (2011). Knowledge workers' creativity and the role of the physical work environment. Human Resource Management, 50(6), 715–734.
Frieling, H. (1978). Das Gesetz Der Farbe. Mustermann.
Frieling, H. (1990). Gesetz Der Farbe. München.
Göler, S. (2009). Biçim, Renk, Malzeme, Doku ve Işığın Mekân Algısına Etkisi. [Yüksek Lisans Tezi, Mimar Sinan Güzel Sanatlar Üniversitesi].
Hamid, P. N., Newport, A. G. (1989). Effect of colour on physical strength and mood in children. Perceptual and Motor Skills, 69, 179–185.
Hascher, R., Jeska, S., & Klauck, B. (2002). Office Buildings: A Design Manuel. Birkhäuser Architecture.
Heuser, K. (1976). Innenarchitecture Und Raumgestaltung. Bauverlag Wiesbaden und Berlin.
Hogg, J., Goodman, S., Porter, T., Mikellides, B., & Preddy, D. E. (1979). Dimensions and determinants of judgements of colour samples and a simulated interior space by architects and non‐architects. British Journal of Psychology, 70(2), 231-242.
Kamu Binaları Standart Rehberi, https://webdosya.csb.gov.tr/db/turkce/faaliyetler/kamu-b-nalari-standartlari-rehber--20180912120718.pdf (22.07.2019).
Koçer S., Yazıcı T., Ekinci D. K. (2016). Büro Ortamlarının Çalışana Etkisi Üzerine Bir Araştırma: Kocaeli Büyükşehir Belediyesi Örneği. Gümüşhane Üniversitesi İletişim Fakültesi Elektronik Dergisi, 4(2), 555-586.
Köseoğlu, E., Çelikkayalar, E. (2016). Yapılı Çevrede Renk Tercihleri. Mimarlık Bilimleri ve Uygulamaları Dergisi (MBUD), 1(2), 57-65.
Kwallek, N., Lewis, C. M., Lin‐Hsiao, J. W. D., & Woodson, H. (1996). Effects of nine monochromatic office interior colors on clerical tasks and worker mood. Color Research & Application, 21(6), 448-458.
Manav, B. (2011). Hacimde Bir Tasarım Parametresi Olarak Renk. Sanat ve Tasarım Dergisi, 1(8), 93-102.
Martel, C. D. (1995). Ben Enerjiyim. Arion Yayınevi.
Nedim, A. (2019). İç Mekanda Renk ve Renkleri̇n İnsan Psi̇koloji̇si̇ne Etki̇leri̇. [Yüksek Lisans Tezi, Marmara Üniversitesi].
O'Connell, B. J., Harper, R. S., & McAndrew, F. T. (1985). Grip Strength as a Function of Exposure to Red or Green Visual Stimulation. Perceptual and Motor Skills, 61(3), 1157–1158.
Topaloğlu M., Koç H. (2002). Büro Yönetimi. Seçkin Yayınevi.
Yetiz, A. (2009). Ofis Mobilyaları ve Ofis Mobilyalarının Tasarımını etkileyen Ergonomi Faktörünün İncelenmesi, Adana'da Bir Banka Örneği. [Yüksek Lisans Tezi, Çukurova Üniversitesi].
Yıldırım A. B. B., Renklibay, U. (2014). Fiziksel ve Davranışsal Ofis Ortamının Verimlilik Üzerine Etkilerinin İncelenmesi. UYMS, VIII. Ulusal Yazılım Mühendisliği Sempozyumu, Ankara, 406-418.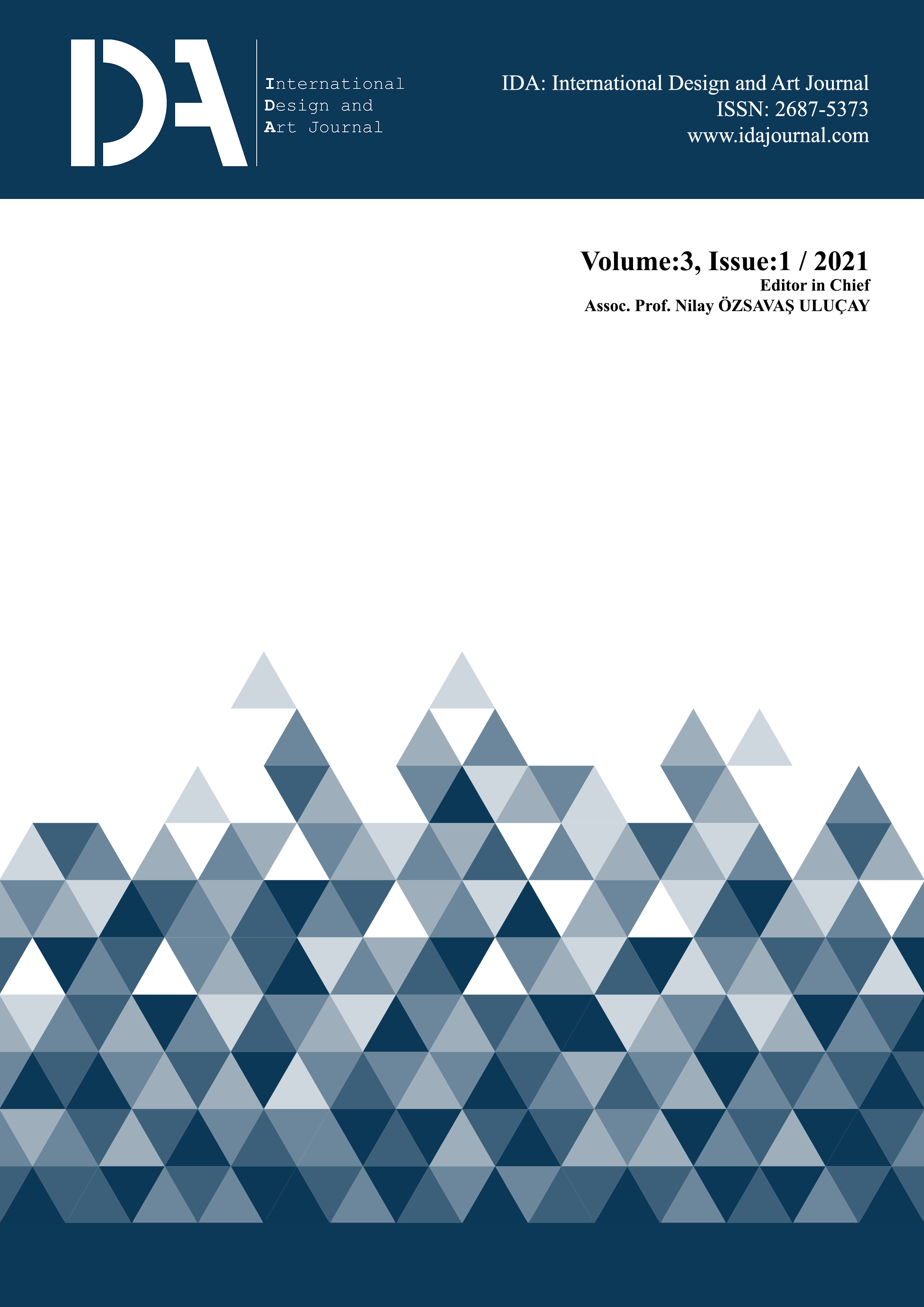 Downloads
License
IDA: International Design and Art Journal is an open-access academic journal. All publishing rights of the accepted articles are deemed to assign to IDA: International Design and Art Journal. Articles can not be published and copied anywhere, and can not be used without reference.
IDA: International Design and Art Journal is licensed under a Creative Commons Attribution-NonCommercial-ShareAlike 4.0 International License.