Spatial Experience as an Interface of Communication: Flagship Store Design
Keywords:
Spatial Experience, Spatial Communication, Retail Design, Flagship Store
Abstract
The concept of 'experience', which is redefined and positioned in search of a solution to the social needs of the 20th century, has a privileged value in the work of creative disciplines. Nature of the experience has a personal attribution caused the subject to relate to identities and became the basic dynamics of brand strategies in communication between design and user. In order to evaluate the experience spatially, the retail design area with a rich content was chosen as a sample; only part of the extensive study with a larger sampling is included here. Multi-channel design content in this area requires the interior architect to expand his perspective to analyze the relationship between space and experience. Retail design is a design area that is updated daily by nature, almost as the determinant of today's lifestyles. It is also known that interdisciplinary study models are used effectively in order to maintain up-to-date and dominance in this field. The role of interior architect in retail design has a unifying activity. At this point, it has been found important to read the identity-brand-experience interaction in the field of interior design, to understand the current attitude of today's retail design and to predict the future. The aim of the study is to examine today's flagship store designs, which have a critical importance in the field of retail, in terms of spatial experience design; is to reveal the design criteria related to the subject and to evaluate the space experience made over a sample store.
References
Aksoy, T. (2014). Pazarlamada Yeni Paradigma. Optimist İdea Yeni Paradigma. İstanbul: Optimist Yayınları.
Burrows, T. (2018). What does your brand's digital-first ecosystem look like? The Future of Retail Space Report: The Role of Physical Space in the Digital-First Retail Future. In association with ICSC. https://www.insider-trends.com/wp-content/uploads/2019/02/The-Future-of-Retail-Space-Report.pdf (26.02.2019)
Doorley, S. ve Witthorf, S. (2018). Mekân Yaratmak. İstanbul: ABA Yayınevi.
Featherstone, M. (2013). Postmodernizm ve Tüketim Kültürü. İstanbul: Ayrıntı Yayınları.
Finney, A. (2018). David Chipperfield Designs. www.ignant.com/2018/05/24/david-chipperfield-designs-ssensesflagship-store/ (20.02. 2019).
Frame. (2018). Fashion Retailer Ssense Designs with Data to Go from Digital to Physical. www.frameweb.com/news/ssense-montreal-david-chipperfield (20.10.2018).
Frame. (2019). Welcome to VRing Station: Ssense's New Valentino Pop-Up is All About Shared Space. https://www.frameweb.com/news/vring-station-ssense-valentino-pop-up (30.04.2020)
Heskett, J. (2017). Tasarım. Ankara: Dost Yayınevi.
Holbrook, M. B. ve Hirschman E. C. (1982). The Experiential Aspects of Consumption: Consumer Fantasies, Feelings, and Fun. Journal of Consumer Research, 9 (2) s. 132-140.
IFI. (2011). International Federation of Interior Architects and Interior Designers. İç Mekân Deklarasyonu. New York. 17-18 Şubat 2011.
Insider Trends. 2016.
https://www.insider-trends.com/how-retail-design-impacts-the-customer-experience/ (26.02.2019).
Insider Trends. 2018. www.insider-trends.com/top-50-retail-design-agencies/(26.02.2019).
Interaction Design Foundation. (t. y.).
https://www.interaction-design.org/literature/topics/storytelling(28.04.2019).
Katseni, A. (t. y.). Escapism: Physical Immersive Interior Space. www.behance.net/gallery/45390001/Escapism-Physical-Immersive-Interior-SpaceBookThesis(20.03.2019).
Kaya, Z. M. (2018). Bir İkon: Beymen Suadiye 481. www.robbreport.com.tr/bir-ikon-beymen-suadiye-481/ (08.03.2019).
Kotler, P. (1974). Atmospheric as a Marketing Tool. Journal of Retailing, 49(4), s. 48-64.
Kotler, P. (1997). Management Analysis, Planning, Implementation and Control (9th Edition). New Jersey: Practice Hall International Inc.
Leydecker, S. (2013). Leydecker, S. (2013). In Between- Interior Design Between Architecture and Design. S. Leydecker (Ed.), Designing Interior Architecture: Consept Typology Material Construction (s.10-52) içinde. Basel: Birkäuser. s.10- 52.
Okay, A. (2005). Kurum Kimliği. İstanbul: Mediacat Yayınları.
Olins, W. (1994). Corporate Identity: Making Business Strategy Visible Through Design. Londra: Thames and Hudson.
Pine, J., ve Gilmore, J. (1998). Welcome to the Experience Economy. Harward Business Review. Temmuz- Ağustos, s. 97-105.
Solomon, M. R. (2004). Tüketici Krallığının Fethi: Markalar Diyarında Pazarlama Stratejileri. İstanbul: Mediacat Yayınları.
Turley, L. W. ve Milliman, R. E. (2000). Atmosferic Effects on Shopping Behavior: A Review of the Experimental Effects. Journal of Business Research (49), s.193-211.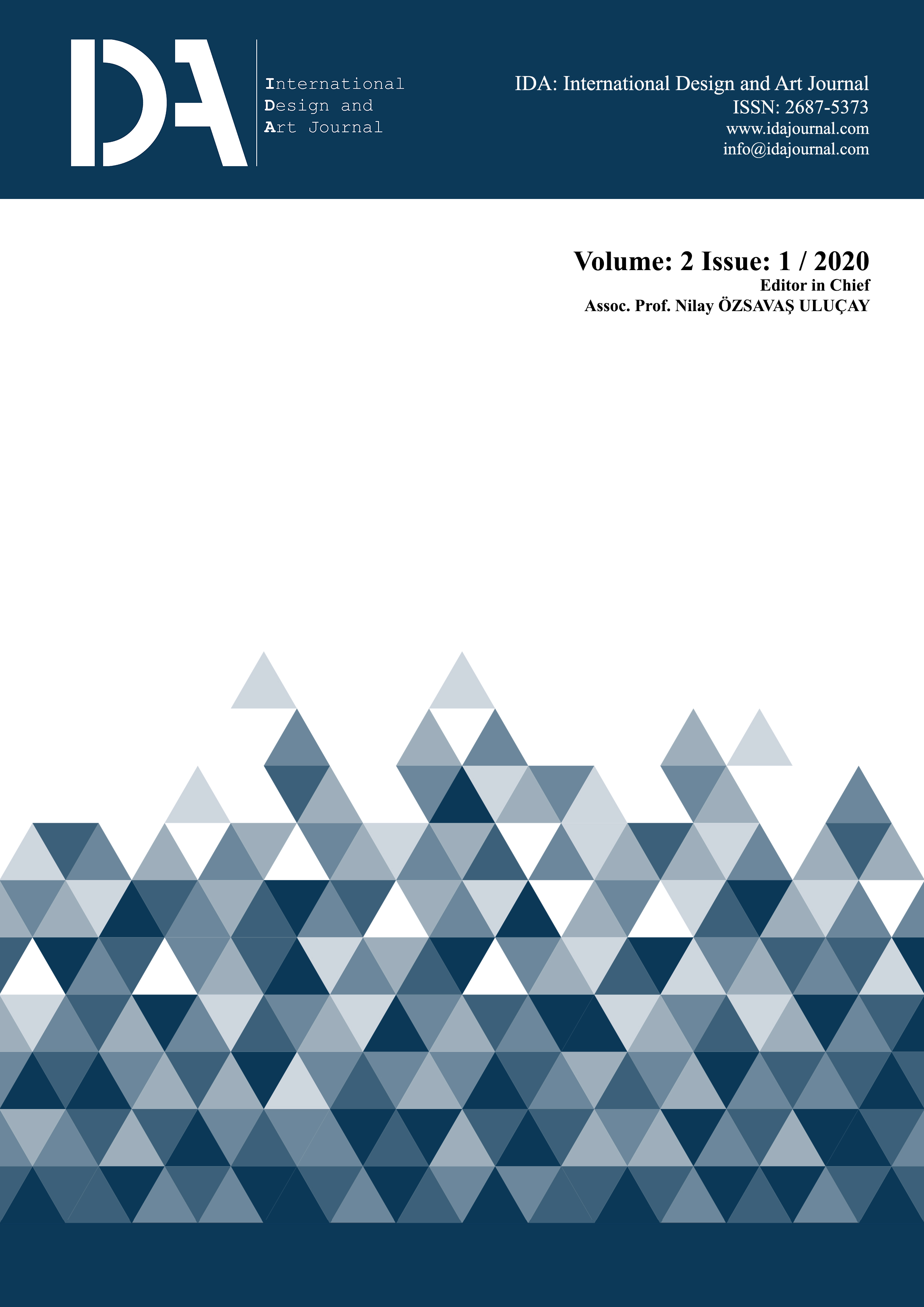 Downloads
License
IDA: International Design and Art Journal is an open-access academic journal. All publishing rights of the accepted articles are deemed to assign to IDA: International Design and Art Journal. Articles can not be published and copied anywhere, and can not be used without reference.
IDA: International Design and Art Journal is licensed under a Creative Commons Attribution-NonCommercial-ShareAlike 4.0 International License.