A Monumental Building That Cannot Reused: Karaman Hatuniye Madrasah
Keywords:
Historic Building, Reusing, Restoration, Hatuniye Madrasah, Karaman
Abstract
One of the most significant efforts to transfer cultural heritage to the next generations is to reuse the historic buildings with appropriate functions. Be aware of historical buildings values reusing of these buildings is an approach that prolongs the lifespan of the cultural heritage. In contrast of this approach, some reuse suggestions or applications which cannot preserve the values of cultural heritage could damage authentic values of cultural heritage and in some cases cause irreversible damages. Hatuniye Madrasah (Melek Hatun, Nefise Hatun), which is located in the city center of Karaman and belongs to the period of Karamanoğulları Principality, has been the subject of reuse studies for many years. Selected functions have always been short-term and permanent functions cannot be determined. Because of different reasons this building could not be efficiently used. After each function, the historical building was kept unused and it was damaged in different ways. In this article, by giving collective information about the historical importance of the madrasah and interventions that it has undergone, some evaluations have been made regarding reusing possibilities of this building. In the context of Hatuniye Madrasah, some results were obtained about the difficulties encountered in reuse of historical buildings.
References
Ahunbay, Z. (2019). Giving New Life to Historic Buildings. Paper presented at the International Civil Engineering and Architecture Conference, Trabzon, Türkiye.
Akın, E. S. (2018). Conservations and Rehabilitation in Historical Urban Centres: Halit and Gaziosmanpasa 22nd Streets, Tokat, Turkey. Iconarp International Journal of Architecture and Planning, 6(2), s.274-303.
Bassett, P. G. (1997). The Theory and Practice of Adaptive Reuse. Symposium on Software Reusability.
Bektaş, C. (1992). Koruma Onarım. Yapı-Endüstri Merkezi, İstanbul: YEM Yayınevi.
Brooker, G. ve Stone, S. (2010). What is Interior Design? Mies: Rotovision.
Cantacuzino, S. (1975). New Uses for Old Buildings (Vol. 3). Londra: Architectural Press.
Cramer, J. ve Breitling, S. (2012). Architecture in Existing Fabric: Planning, Design, Building. Londra: Birkhauser.
Diez, E., Aslanapa, O., ve Koman, M. M. (1950). Karaman Devri Sanatı. İstanbul Üniversitesi Edebiyat Fakültesi Yayınları.
Dülgerler, O. N. (1995). Karamanoğulları Dönemi Mimarisi. İstanbul: Türk Tarih Kurumu Yayınları.
Gelfand, L., ve Duncan, C. (2011). Sustainable Renovation: Strategies for Commercial Building Systems and Envelope (Vol. 19). Hoboken, New Jersey: John Wiley & Sons.
Hasol, D. (2014). Ansiklopedik Mimarlık Sözlüğü (13. Baskı). İstanbul: YEM Yayınevi.
Hein, M. F., ve Houck, K. D. (2008). Construction Challenges of Adaptive Reuse of Historical Buildings in Europe. International Journal of Construction Education Research, 4(2), s.115-131.
Highfield, D. (1987). Rehabilitation and Re-Use of Old Buildings: London and New York: Spon Press, Taylor&Francis.
İslamoğlu, Ö. (2018). Tarihi Yapıların Yeniden Kullanılmasında Yapı-İşlev Uyumu: Rize Müzesi Örneği/The Structure-Function Coherence in the Reuse of Historical Buildings: Rize Museum Sample. Journal of History Culture and Art Research, 7(5), s.510-523.
Konyalı, İ. H., (1967). Âbideleri ve Kitabeleri ile Karaman Tarihi. İstanbul: Yeni Kitap Basımevi.
Kuban, D. (2000). Tarihi Çevre Korumanın Mimarlık Boyutu: Kuram ve Uygulama. İstanbul: Yapı-Endüstri Merkezi Yayınları.
Özüdoğru, Ş. (2005). Karaman'da Türk Mimari Eserleri Süslemesi. Karaman Tarihi ve Kültürü, C. V, Karaman: Karaman Valiliği İl Kültür ve Turizm Müdürlüğü Yayınları, s.129-309.
Pearson, C. (1999). Architecture reborn: Converting Old Buildings for New Uses. New York, USA: Mcgraw Hill Inc.
Plevoets, B., ve Van Cleempoel, K. (2013). Adaptive Reuse as an Emerging Discipline: an Historic Survey. Reinventing Architecture Interiors: A Socio-Political View on Building Adaptation. London: libri Publishers. s.13-32.
Sözen, M. (1970). Anadolu Medreseleri: Selçuklu ve Beylikler Devri (Vol. 1). İstanbul: İstanbul Teknik Üniversitesi, Mimarlık Tarihi ve Rölöve Kürsüsü. s.49-57.
Steinberg, F. J. H. I. (1996). Conservation and Rehabilitation of Urban Heritage in Developing Countries. Habitat Intl. 20(3), s.463-475.
Eryavuz, Ş. (1997). Hatuniye Medresesi. TDV İslâm Ansiklopedisi. https://islamansiklopedisi.org.tr/hatuniye-medresesi--karaman (10.05.2020).
Şikârî, A. (1946). Şikârinin Karaman Oğulları Tarihi (Vol. 2). Konya: Yeni Kitab Basımevi.
Yetkin, Ş. (1972). Anadolu'da Türk Çini Sanatının Gelişmesi. İstanbul: İstanbul Üniversitesi Edebiyat Fakültesi Yayınları.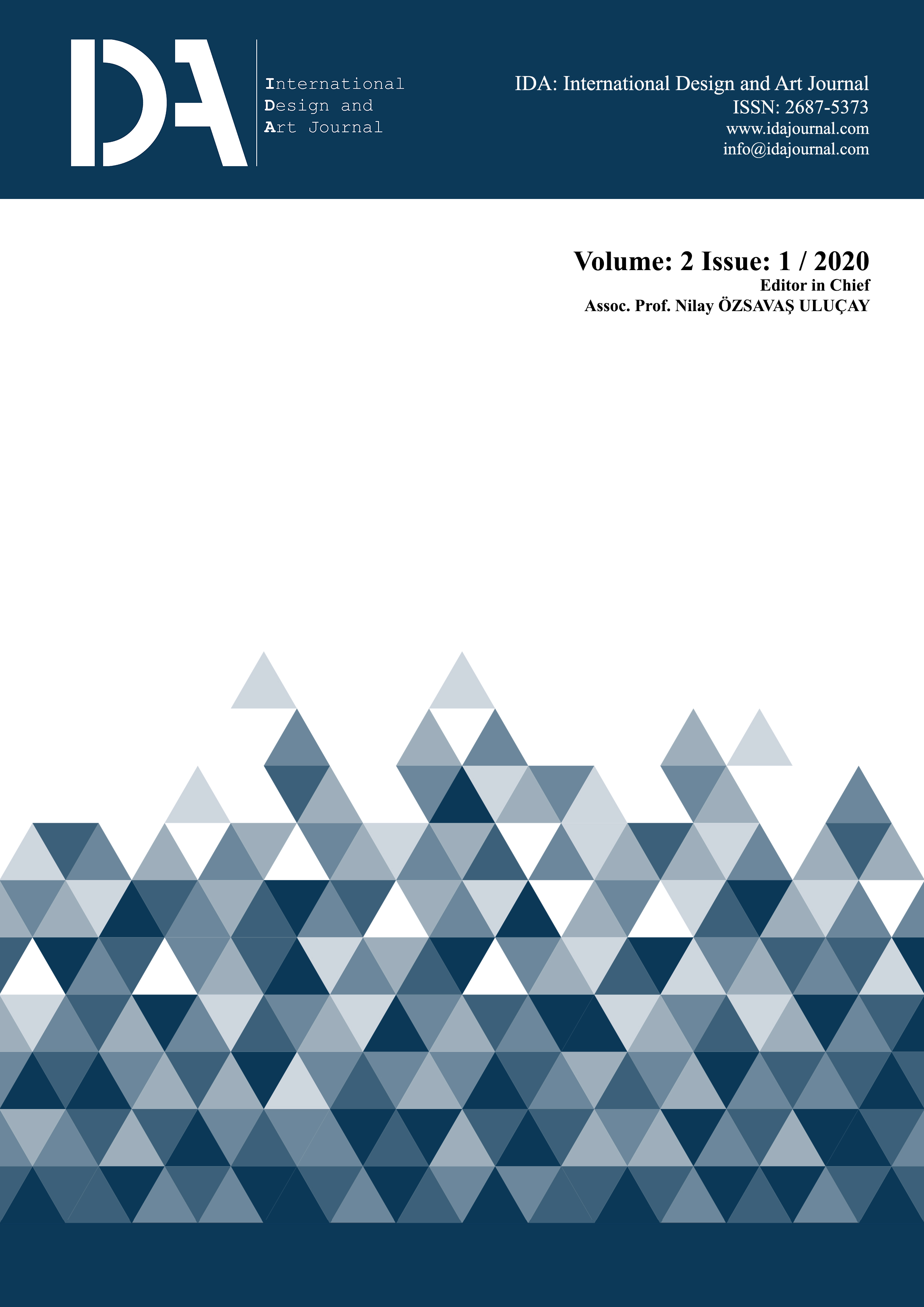 Downloads
License
IDA: International Design and Art Journal is an open-access academic journal. All publishing rights of the accepted articles are deemed to assign to IDA: International Design and Art Journal. Articles can not be published and copied anywhere, and can not be used without reference.
IDA: International Design and Art Journal is licensed under a Creative Commons Attribution-NonCommercial-ShareAlike 4.0 International License.