Concept Representation and Form Production in Basic Design
Keywords:
Interior Architecture, Basic Design, Design Education, Concept, Form
Abstract
Interpreting the correlative relationship between conceptual representation with form production through students' design ideas and success levels, two hypotheses have been formed. Base for the first hypothesis; students who start their design with concrete concepts are more successful than those who start with abstract concepts; the idea of the second hypothesis; students who start their study with concrete concepts are more likely to make easier decisions during the production easier. In order to examine these two hypotheses of the study, students were asked to choose either concrete (transformation, movement, eternity) or abstract (courage, risk, illusion) concepts as a design strategy and to represent the concepts they have chosen in spatial scale. Completed with the participation of 65 students passed on their Basic Design I course within the 2019-2020 academic year, fall semester at Istanbul Gedik University, Faculty of Fine Arts and Architecture, Interior Architecture and Environmental Design Department; to specify the parameters which affect the student's design decisions, 8 questions semi-structured interview form was used and to determine the place of the creation processes within basic design literature twenty question 5-point Likert type survey form was used for this research. As a result of the research, in which all the obtained data were analyzed with SPSS software, both hypotheses in question were statistically confirmed and it has been concluded that the abstract concepts which are used as references for the generation of form in basic design education, negatively influence both the design processes and the success levels of the students.
References
Artun, A. ve Aliçavuşoğlu, E. (2009). Bauhaus: Modernleşmenin Tasarımı; Türkiye'de Mimarlık, Sanat, Tasarım Eğitimi ve Bauhaus. İstanbul: İletişim Yayınları.
Boucharenc, C. G. (2006). Research on Basic Design Education: An International Survey. International Journal of Technology and Design Education, 16(1), 1-30.
Bronet, F. & Schumacher, J. (1999). Design in Movement: The Prospects of Interdisciplinary Design. Journal of Architectural Education, 53(2), 97-109.
Bulat, S. ve Aydın, B. (2014). Bauhaus Tasarım Okulu. Atatürk Üniversitesi Sosyal Bilimler Enstitüsü Dergisi, 18(1), 105-120.
Ching, F. D. (2014). Architecture: Form, Space, and Order. John Wiley & Sons.
Droste, M. (2002). Bauhaus 1919-1933. Taschen.
Durmus, S. (2015). Teaching/Learning Strategies through Art: Philosophy & Basic Design Education. Procedia-Social and Behavioral Sciences, 182, 29-36.
Eilouti, B. (2018). Concept Evolution in Architectural Design: An Octonary Framework. Frontiers of Architectural Research, 7(2), 180-196.
Erdoğdu, G. P. S. (2016). Basic Design Education: A Course Outline Proposal. Planning, 26(1), 7-19.
Findeli, A. (2001). Rethinking Design Education for the 21st Century: Theoretical, Methodological, and Ethical Discussion. Design Issues, 17(1), 5-17.
Güngören, E. (2019). Bauhaus'un 100. Yılında İDGSA'da Temel Tasarımın Zihin Haritaları. Mimar.ist, 19(65), ss.74-82.
Hughes, Q. (1982). Before the Bauhaus: The Experiment at the Liverpool School of Architecture and Applied Arts. Architectural History, Volume 25, pp.102-113.
Kömürcüoğlu Turan, N. ve Altaş, N. E. (2003). Tasarım Sürecinde Kavram. İTÜDERGİSİ/a Mimarlık, Planlama, Tasarım, 2(1), 15-26.
Moussavi, F. (2009). The Function of Form. Actar, Barcelona.
Özsırkıntı Kasap, H. ve Türkmen, A. (2018). Temel Tasarım Eğitiminde Yüzeyden Hacime Geçiş Çalışmalarının Biçim Üretimi Bağlamında Değerlendirilmesi. T. Özseven (Ed.), Proceedings from ISAS 2nd International Symposium on Innovative Approaches in Scientific Studies. (ss.155-162), Samsun.
Ranjan, M. P. (2005). Lessons from Bauhaus, Ulm and NID: Role of Basic Design in PG education. In Design Education: Tradition and Modernity. Scholastic papers from International Conference, DETM.
Salama, A. M. (2016). Spatial Design Education: New Directions for Pedagogy in Architecture and Beyond. Routledge.
Wong, W. (1993). Principles of Form and Design. John Wiley & Sons.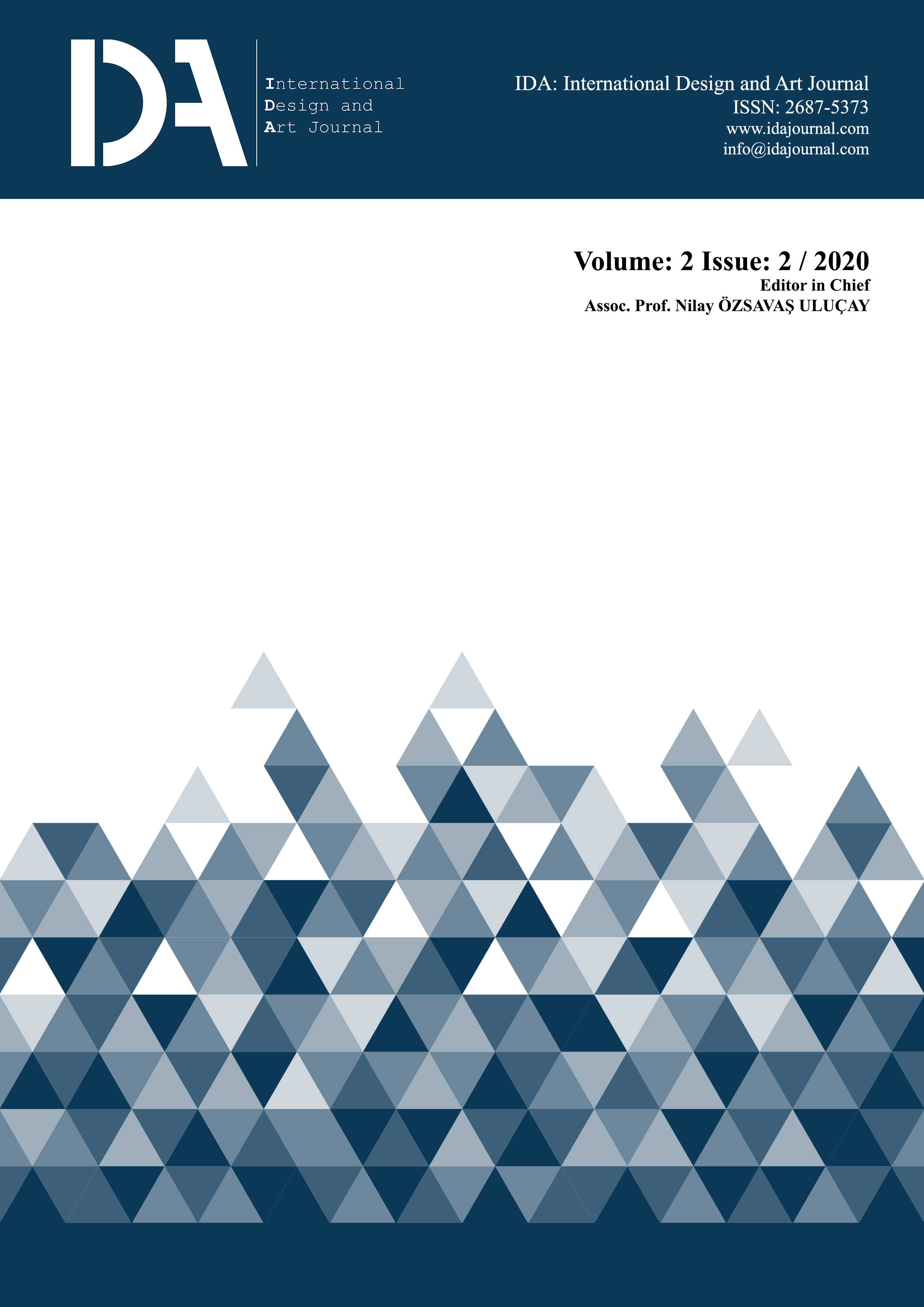 Downloads
License
IDA: International Design and Art Journal is an open-access academic journal. All publishing rights of the accepted articles are deemed to assign to IDA: International Design and Art Journal. Articles can not be published and copied anywhere, and can not be used without reference.
IDA: International Design and Art Journal is licensed under a Creative Commons Attribution-NonCommercial-ShareAlike 4.0 International License.